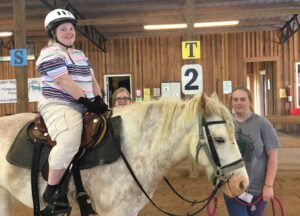 Adaptive (Therapeutic) Riding
We offer goal-oriented therapeutic riding lessons for persons with physical, emotional, cognitive, or social challenges.  Lessons are taught by qualified instructors, including those holding PATH (Professional Association of Therapeutic Horsemanship) certification.  We individualize the lessons for each rider.
A few details about the lesson program...
We focus on adaptive riding, riding skills, and equine assisted activities. (We do not offer therapist-led "Hippotherapy" at our center.)
Lessons are held year-round (with scheduled breaks for major holidays).
Most participants ride weekly, although riding twice/week is also an option.
New riders commit to a minimum of 4 weeks. However, many of our participants have been at Ridin' High for several years!
Lessons typically include only 2 participants (which is a very low instructor/student ratio!).  Lessons are 45 minutes in length, with unmounted activities typically comprising 15 minutes; mounted activities 30 minutes of the overall time.
Riders are committed financially to each session, paid on a monthly basis, unless they give 24 hours notice (this is to cover staff/instructor costs). Please realize that we have significant staff and volunteer time in your lesson before you even arrive at Ridin' High.
The rider fee is $30/lesson (which is only 20% of the actual cost). ($60/lesson for private sessions.) The remainder of the 'real' cost of the lessons is covered through volunteer efforts, donations, and fundraising events. Thank you to all who make therapeutic lessons affordable for our families!
To get started, follow these simple steps:
Download and print the Registration Packet, located at Forms & Program Information
Fill out and sign the forms (parent and physician).
Schedule a time to come to Ridin' High for a tour and informal assessment. This will help ensure that Ridin' High and your participant are a good fit.
Schedule lessons (one month minimum).
Enjoy the benefits of therapeutic riding and equine-assisted activities!
Contact Us
We'd love to talk personally with you about Ridin' High can benefit you, your school, or your family member through our Therapeutic Riding Program.  Call our office at 423-585-0331 (or email us at [email protected]).