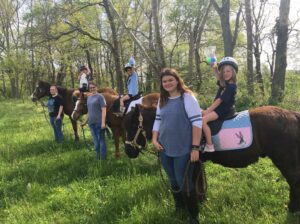 ACEs Day Camp
Our day horse camp is for children and youth ages 10-14 years old who have undergone Adverse Childhood Experiences (ACEs) as well as able-bodied riders. Trauma-informed care centers around interactive activities with our wonderful therapy horses, relationship-building, and unmounted activities. Participants gain confidence and build resilience through carefully-designed, equine-based services. This program does not include riding, but rather focuses on horsemanship and building resilience through equine assisted activities.  The camp is held during the summer as an extension of our regular program and is provided at a minimal cost due to generous grantmakers.
If you are interested in participating in the camp (or are interested in serving as an encouraging volunteer), please email us at [email protected].
Contact Us
We'd love to talk personally with you about Ridin' High can benefit you, your school, or your family member.  Please email us at [email protected] for a call back.