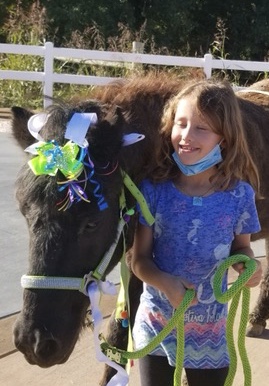 Pony Partners Online Videos
We're excited about sharing some of our Pony Partners Literacy/Horsemanship Program in Online Format! This is a great way to 'bolster' your learning at Ridin' High. And if it doesn't work for you to be involved in the 'in person' Pony Partners Program, you can still enjoy these videos at home. So spend a few minutes with Ms. Lisa and Midnight at Ridin' High – virtually!

Finally, we want to give a HUGE THANKS to First Horizon Foundation for helping to fund the Pony Partners Literacy Program.
Video 1 of Midnight and Ms. Lisa Online! (Pony Partners Program at Ridin' High Therapeutic Center)
Video 2 of Midnight and Ms. Lisa Online! (Pony Partners Program at Ridin' High Therapeutic Center)
Video 3 of Midnight and Ms. Lisa Online! (Pony Partners Program at Ridin' High Therapeutic Center)
Video 4 of Midnight and Ms. Lisa Online! (Pony Partners Program at Ridin' High Therapeutic Center)
Video 5 of Midnight and Ms. Lisa Online! (Pony Partners Program at Ridin' High Therapeutic Center)
Contact Us
We'd love to talk personally with you about Ridin' High can benefit you, your school, or your family member. Call our office at 423-585-0331 (or email us at [email protected]). Contact Us