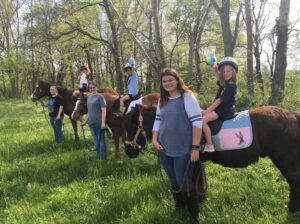 Summer Riding Day Camp
Our summer day horse camp is for children and youth ages 10-13 years old who have undergone Adverse Childhood Experiences (ACEs) as well as able-bodied riders. Trauma-informed care centers around interactive activities with our wonderful therapy horses, relationship-building, and riding. Participants gain confidence and build resilience through carefully-designed, equine-based services. .
If you are interested in participating in the camp (or are interested in serving as an encouraging volunteer), please email us at [email protected]
Contact Us
We'd love to talk personally with you about Ridin' High can benefit you, your school, or your family member.  Please email us at [email protected] for a call back.